---
Click
here
to view our foals born during the current year!

Presenting our 2001 Foals!!
Copyright © graphic designed by JKV Designs exclusively for Wit's End Farm!
"Half Ass Acres Sophie Bandito"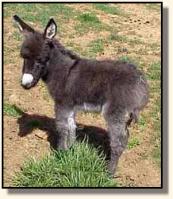 (Click photo to enlarge)
Foaled 4-18-01
Dark Brown Jennet

Sire: Short Assets Dance A Jigg, 30" Brown
Dam: PMF's Betty Boop, 33" Gray-Dun



Sophia will join our brood jennet band in 2004. Look for her on the show circuit until she is old enough to be bred to our new herd sire, Sunset Acres Racer.


" Windcrest Little Tito"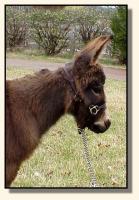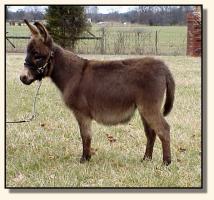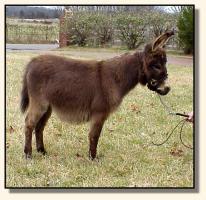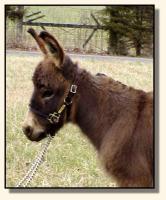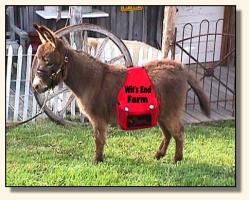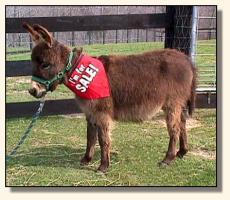 Tito with his new owner, Karen!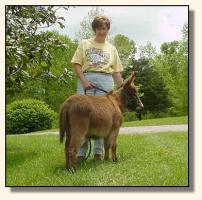 (Click photos to enlarge)
DOB 8/23/01
Dark Brown Jack






Since our recent purchase of Sunset Acres Racer, from Windcrest Acres we have decided to sell our Junior Herdsire, Windcrest Little Tito. My World Buster is his grand sire and My World Buster is Racer's sire. They are too closely related. This is a hard decision for us as Tito's pedigree is fantastic. Tito's sire is PGF's Peppercorn Jack, a 29.5" brown jack, who has sired many beautiful donkeys. His dam is Sunset Acres Martina, a very dark brown, 32" with no light points!


Contratulations to
Karen Hutchinson
Hazel Green, Alabama!

" Windcrest Little Skylar"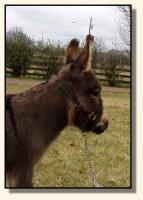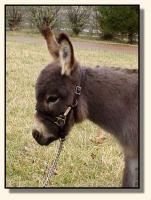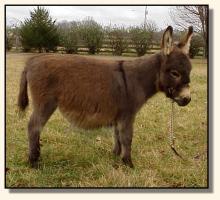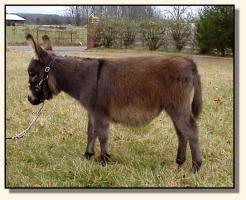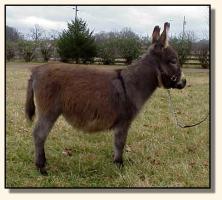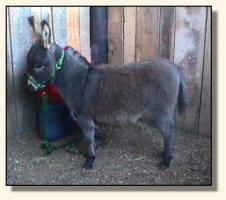 (Click photos to enlarge)
Foaled 07-27-01
Dark Brown Jennet

Sire: PGF's Peppercorn Jack, 29.5" Brown
Grand Sire: My World Buster, 30.25" Dark Sorrel

Dam: Windcrest Glorianna, 30" Black



Skylar was bred and born at Windcrest Acres. She is definitely show quality!




" Wit's End Felina"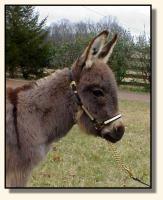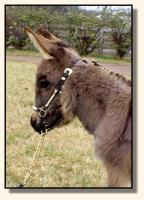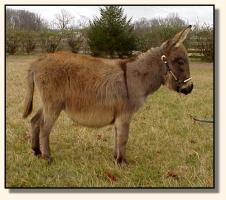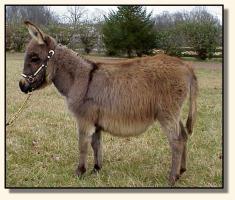 (Click photos to enlarge)
Foaled 07-09-01



Sire: LUA John, 30" Gray/White Spot

Dam: LUA Lazarus Lucy, 33.5" Brown w/sorrel highlights
Grand Sire: LUA Lazarus, 32.5 spotted
Grand Dam: LUA Peaches & Creme, 31" Brown/Gray



Felina carries the bloodlines of Rainbow's Blizzard and Rockbridge Maracus. There are also a lot of show winners in her pedigree. Felina has lot's of different colors in her pedigree: brown/slate, L.U.A. Peaches and Cream; gray & white spotted, Rainbow's Blizzard; Frosted Spotted White 3 generations back out of Mogensen's Snowman. Felina would cross well with a spotted jack as their are spots throughout her papers. This little jennet has great conformation, has a very gentle and sweet personality, and loves to be around people to get all the hugs and rubs she can get!



Click here to view Felina's pedigree!!!





Congratulations to
Brent & Kristi Lewis
Lynnville, Tennessee!!
You are on our '2001' Foal Page now!
Click here to see our '2002' Foals
Click here to see our '2003' Foals
Click here to see our '2004' Foals
Click here to see our '2005' Foals
Click here to see our '2006' Foals
Click here to see our '2007' Foals
Click here to see our '2010' Foals
Click here to see our '2011' Foals
---
---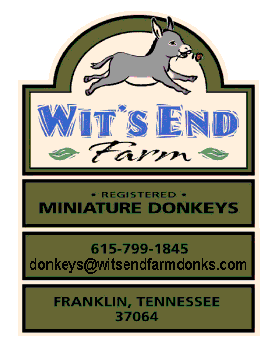 ---
Bob & Sandy Dorris
7515 Pewitt Road
Franklin, Tennessee 37064
Telephone: 615-799-1845
Email: caviarsmom@gmail.com
Last Updated
Web Design by Dayle Haworth
Copyright© 2001-2010 ~ Wit's End Farm ~ All Rights Reserved